Professional Backflow Services in Santee, California
Products and Services Designed to Prevent Backflow for Customers in San Diego County and Imperial County
At Backflow Services Inc, we provide comprehensive backflow services that are unmatched in the industry. With over 40 years of experience, we have become specialized experts in everything backflow related. Our team includes plumbers who possess specialized certifications and licenses required for backflow maintenance and repair. We regularly upgrade our skills and stay current with the latest industry trends to ensure that our customers receive the highest quality service possible. With Backflow Services Inc, you can expect efficient and professional installation, repair, maintenance, testing, and certification services that come with our service guarantee. We pride ourselves on being the trusted professionals in our field, and we're ready to serve you.
Call our Santee office at (619) 848-6866 today to request your free backflow services estimate!
Our Backflow Services Include:
Backflow Installation: Backflow prevention devices are essential for maintaining a clean and safe water supply in your home or business. At Backflow Services Inc, we provide professional installations of all kinds of backflow prevention devices and assemblies to fulfill the needs of our
Backflow Repairs: Backflow devices and assemblies can fail over time and may need to be repaired. Our qualified team of plumbers provides expert backflow repair services to ensure that your backflow prevention device or assembly is working correctly and meets all necessary standards.
Backflow Replacement: If your backflow device or assembly is beyond repair or past its useful life, we provide backflow replacement services. Our team understands that timely replacement is crucial to maintaining a clean water supply and a safe environment.
Backflow Testing: Backflow prevention needs to be inspected annually to ensure that they are functioning correctly. We provide comprehensive backflow testing services to ensure that your backflow assembly is functioning correctly and adequately protecting your home or business.
Backflow Rental: We offer rental service for backflow prevention assemblies that can be installed temporarily, providing your water supply temporary protection.
Cross-Connection Surveys: : Backflow is caused when contaminated water is siphoned or back from unprotected cross-connections. Backflow Services Inc's team provides cross-connection surveys to identify cross-connections to eliminate the risk of backflow.
Backflow Protection: We can install cages, locks, and other protective measures to prevent vandalism and theft of your backflow prevention equipment.
The Importance of Proper Backflow Services
Backflow prevention is essential for maintaining a clean and safe water supply in all types of properties. A backflow prevention device helps to prevent contaminants from flowing back into the public water supply. This is especially important for industrial and commercial properties that have chemicals or other hazardous substances on-site. Without proper backflow prevention, these harmful elements could contaminate the local water supply and potentially harm people and the surrounding environment.
Furthermore, residential properties can benefit from backflow services as well. Residential properties can have cross-connections, which can cause backflow to occur. Cross-connections often exist between drinking water and non-drinking water systems, such as sprinkler systems, swimming pools, or hot tubs. Preventing backflow can help to keep drinking water safe and prevent the risk of transmitting waterborne illnesses.
In conclusion, backflow services are imperative for maintaining the safety and cleanliness of a water supply for any type of property. The implementation of proper backflow prevention measures by a qualified and experienced team like Backflow Services Inc can help prevent the risk of contaminated water, protecting the environment and public health.
See what our backflow services team can do for you – call (619) 848-6866 or send us a message online today to request service anywhere in San Diego County or Imperial County!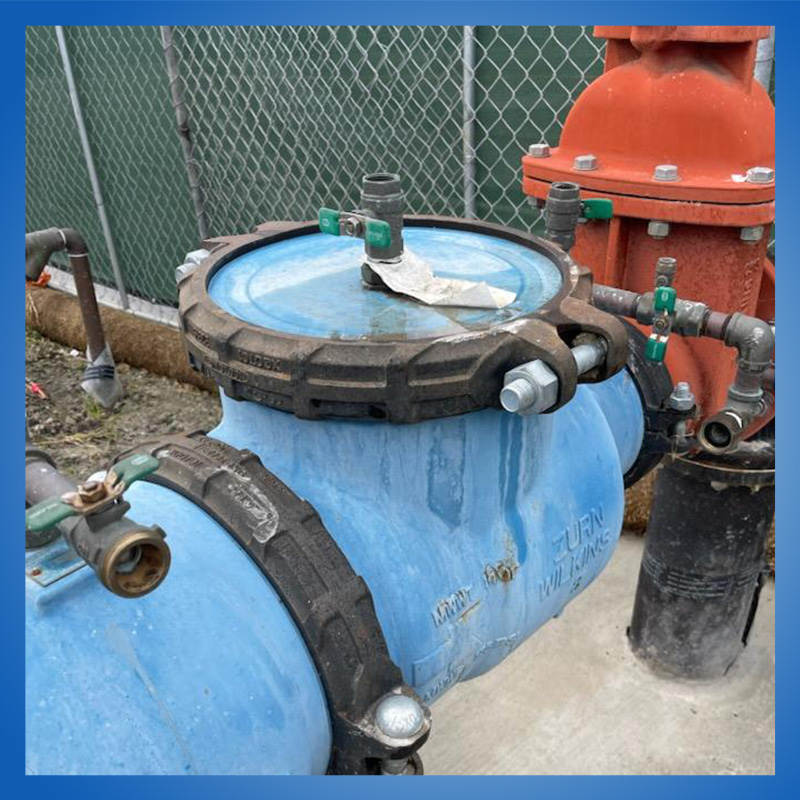 Have Questions on Annual Testing? Reach Out Today - We're Here to Help!
We Serve
Airports

Attractions

Condos

Hospitals

HOAs

Hotels

Malls

Military Bases

Private Residences

Restaurants

Schools

Shopping Centers

Theme Parks

Water Agencies

& More!